Surgical Services
At Parham Doctors' Hospital, our nationally-renowned surgeons use state-of-the-art equipment to perform groundbreaking procedures every day. Surgery is not something that is taken lightly, and we are committed to offering a compassionate, caring environment for you and your loved ones.
Parham Doctors' Hospital is equipped with seven fully licensed operating rooms, and four fully licensed operating rooms in our Surgery Center both equipped for traditional and minimally-invasive procedures. Plus, our highly skilled staff of physicians, nurses, therapists, pharmacists, and case managers will help you move through the recovery process as smoothly as possible.
During your surgery we offer two helpful ways for your loved ones to help them know where you are during the surgery process:
C-Tracker: A tracking system that is placed in the waiting room.
SugiTrak: SurgiTrak is offered to you when you go through pre-registration. You will provide your email address and then you can sign up as many family members and friends that you would like to receive email or text message alerts of where you are in the surgical process.
We also provide a comfortable waiting area for your family with free Wi-Fi, and coffee with several TVs, and for those that just want a quiet place to read we have a separate room away for the TVs.
Surgical Procedures
Our highly advanced surgical unit, combined with our outstanding recovery facilities, provides the ideal environment for your surgery.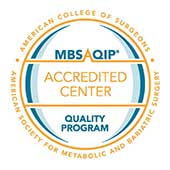 Our MBSAQIP-accredited Bariatric Surgery program includes gastric bypass, gastric sleeve, and adjustable gastric band procedures.
Our Total Joint Center of Excellence program includes total replacements and revisions for knees, hips, and shoulders.
Our Spine Center of Excellence program includes lumbar laminectomy, lumbar fusion, and anterior cervical disc fusions.
Parham Doctors' Hospital also provides a full range of surgical procedures in other specialties including podiatry, fracture repair, general surgery (including appendectomy, hernia repair, biopsies, and gallbladder surgeries), transurethral slings, and plastic surgery.
Before Your Procedure
As you prepare for your procedure at Parham Doctors' Hospital, keep the below general guidelines in mind, unless your surgeon or doctor instructs otherwise:
Stop eating and drinking at midnight the night before your surgery, including chewing gum and mints
Take your prescribed heart, blood pressure, asthma, thyroid, seizure, or pain medications, as discussed with your doctor, with just enough water to swallow them, and inform your doctor and care team if you are taking blood thinners for any reason( the nurse that does your pre-op interview at the hospital will review this with you).
Stop taking insulin the day of your surgery.
Bathe or shower prior to your procedure per the instructions provided to you in your pre-op interview by the nurse, and don't apply make-up or lotions.
Wear comfortable clothing and remove all jewelry (including body piercings).
Leave valuables, credit cards and money at home.
Bring containers for glasses, dentures or hearing aids, and place these items in their containers before entering the operating room.
Pack a small bag with what you'll need for an overnight stay, including pajamas, slippers, and any desired toiletries to make your stay more comfortable.
After Your Procedure
After your procedure, your doctor will inform your designated caregivers about the details of your procedure. You may be taken to a post-anesthesia care unit (PACU) to continuously monitor your recovery (heart rate, breathing, blood pressure, temperature, pain level). Let your nurse know about any symptoms you experience after your surgery, even if they seem insignificant such as (pain, sore throat, eye irritation, difficulty urinating or breathing).
Your doctor will determine when it is appropriate for you to return home or be moved to a post-operative room in the hospital to continue your recovery. Before you are discharged, you will have your discharge instructions reviewed with you and will be given written instructions on how to care for yourself at home and who to call with questions you may have during recovery. You may receive a follow up survey call and we would love you to share your experience with us to help us know the things we are doing well and if there is something we could improve.
---
Endoscopy Services
Endoscopy is a minimally-invasive, non-incisional procedure that lets your gastrointestinal specialist look inside your body using an instrument called an endoscope, or scope, with a fiber-optic camera attached.
Parham Doctors' Hospital offers endoscopic procedures, such as colonoscopy and bronchoscopy, as a safe and effective way to screen for diseases, obtain tissue samples and treat many conditions of the gastrointestinal (GI) tract, bile duct and pancreas.
Endoscopy procedures at Parham Doctors' Hospital are performed in a comfortable suite, separate from our surgical unit, including a pre-procedural area, endoscopic procedure rooms, a recovery area, and a waiting area for loved ones that includes entertainment and a complimentary coffee bar.
Some of our general endoscopic procedures include:
Colonoscopy
Upper gastrointestinal series (Upper GI)
Endoscopic retrograde cholangiopancreatography (ERCP)
Stretta gastroesophageal reflux (GERD) treatment
Bronchoscopy
Mucosal resection
Some of our bariatric endoscopy procedures include:
Gastric band fills
Intragastric balloon insertion and removal
Overstitch bariatric revision procedures