Award-winning orthopedic care in Richmond, Virginia
The orthopedic hospital at Parham Doctors' Hospital provides more patient-focused, dependable orthopedic care than any other in the region. Recognized as a High Performing Hospital for Knee Replacement Surgery by U.S. News & World Report, our orthopedic surgeons and neurosurgeons lead programs accredited by The Joint Commission. Healthgrades has also recognized Parham Doctors' Hospital as America's Top 100 Hospitals for Orthopedic Surgery and Joint Replacement for three years in a row – a distinction held by only 5% of hospitals in the nation.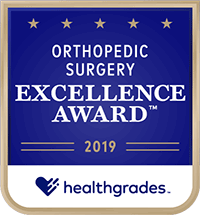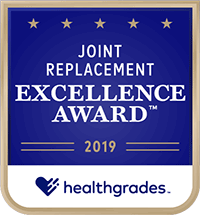 Read more about why we are recognized as one of the best hospitals in 2018.
Health Risk Assessments
Find out how healthy you are by taking our FREE online health risk assessments:
For questions and appointments, contact our award-winning experts at the orthopedic hospital on our 24/7 line at (804) 320-3627 to get started. We will have a staff member speak with you to get your started on your road to recovery.
We perform the most complex procedures available in Central Virginia, including robotic-assisted techniques. You receive first-class care from a team that thinks about your needs every step of the way. Our orthopedics services include:
Orthopedic conditions we treat
Our team uses advanced diagnostic tools and multispecialty expertise to diagnose and treat your condition. We work closely with you to relieve pain and get you back to your active life as soon as possible.
The orthopedic team at Parham Doctors' Hospital treats a wide range of orthopedic conditions, including:
Arthritis pain
Bone spurs
Broken bones
Bursitis
Degenerative disc disease
Gout
Herniated disc
Impingement (pinched nerve)
Joint pain from injury or osteoarthritis
Joint dislocation
Muscle strains or sprains
Overuse or repetitive stress injury
Plantar fasciitis (heel pain)
Sciatic pain
Tendon and cartilage injury
Tennis elbow
Trauma injury
Trigger finger
Orthotic fitting and casting
Parham Doctors' Hospital serves patients with musculoskeletal disorders that would benefit from custom molded orthotics. A Biomechanical Lower Extremity Evaluation assesses if the patient would benefit from custom molded orthotics. The goal is to help patients return to functional activities such as walking, running and sports with the use of orthotics.
What does an orthotic evaluation involve?
Lower extremity and foot assessment
Custom molding and casting of the foot to make the orthotic device
Individualized exercise program based on the evaluation in addition to making the orthotics
Patients experiencing these symptoms can benefit from orthotics, such as:
Back pain
Hip pain
Knee pain
Ankle/foot pain
If you need surgery, our doctors provide the latest technology and specialize in the most advanced techniques to get you back on your feet, sooner and safer. Our surgical and nonsurgical treatments include:
Arthroscopic surgery
Casting and splinting
Cartilage and meniscus repair
Occupational therapy
Partial knee replacement
Rotator cuff repair
Sports medicine programs
MAKOplasty® Technology
Parham Doctors' Hospital is proud to adopt the MAKOplasty® Technology to expand and enhance joint replacement surgeries. The MAKOplasty® allows our team to focus on more minimally invasive techniques, so patients experience short hospital time and shorter recovery time.
If you suffer from chronic hip or knee pain, you've come to the right place. Your surgeon will determine if you're a good candidate for MAKO and you'll benefit from quicker relief from hip and knee pain, a quicker recovery and shorter hospital.
For appointments and questions, contact our experts at the orthopedic hospital at Parham Doctors' Hospital on our 24/7 line at (804) 320-3627.
Richmond, Virginia's leader in orthopedics and spine care
While the orthopedic hospital at Parham Doctors' Hospital offers the most awarded orthopedic and spine care in the region, we are also honored that patients rank us high in satisfaction surveys. Patients choose us for:
Our programs accredited by The Joint Commission: The nation's leading authority on quality care, outcomes and continuous improvement approves our spine fusion program.
Our care in a full-service hospital: If you need surgery, we have all the services and amenities you need for a comfortable recovery. We have the latest imaging and tests to evaluate and diagnose orthopedic conditions at the earliest stages. Our hospital also offers both inpatient and outpatient orthopedic rehabilitation services. This means you can receive diagnostics, treatment and therapy in one place, from one team.
Fellowship trained board-certified specialists: Your care comes from board-certified doctors, specially trained in orthopedics, orthopedic surgery, sports medicine and neurosurgery. Most of our doctors are also fellowship trained in their field. You benefit from a team of doctors, surgeons, nurses, physical therapists and other specialists and professionals dedicated to helping you to get better, faster.
Restoring Your Quality of Life
We offer advanced joint replacement and reconstruction techniques, including minimally invasive direct anterior hip replacement.
Neck and back pain can cause time away from work or limit your active lifestyle. Let our orthopedic and spine experts restore your functioning, safely.
Don't let a sports injury keep you sidelined. Let the area's largest sports medicine team of doctors, surgeons, therapists, and trainers help you reach peak performance after injury.