Heart experts in Richmond, Virginia
At Parham Doctors' Hospital, a Campus of Henrico Doctors' Hospitals, we are proud to be named one of the Nation's Top 100 Hospitals by Truven Health Analytics and recognized as a High Performing Hospital for Heart Bypass Surgery by U.S. News & World Report. We are proud to provide our patients minimally and non-invasive diagnostic testing and cardiac rehabilitation.
Contact us
If you believe that you or someone you know may benefit from any of our heart and vascular care services or cardiac rehabilitation at Parham Doctors' Hospital, please contact us at (804) 545-4908.
Cardiac rehabilitation
If you are recovering from a cardiac condition, such as a heart attack, our cardiac rehabilitation at Parham Doctors' Hospital is willing and ready to assist you. Our rehab therapists will work closely with you to understand your personal goals and to help you attain them at a safe and healthy pace.
We will begin your exercise program slowly and increase your regimen intensity as you regain heart strength. Our rehab team will closely monitor your heart rate, blood pressure and intensity level closely before, during and after exercise. You will learn how to check your heart rate and manage your cardiac condition so you can do the things you need and love to do, all while working to avoid future heart problems.
Our cardiology services are in the top 10 percent in the nation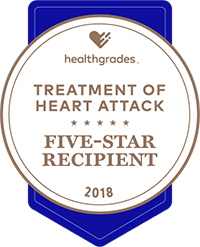 We collaborate with cardiology experts at Henrico Doctors' heart center for heart and vascular care that incorporates the best technology and care in the region. Recognized and named amongst the Top 10% in the Nation for Cardiology Services, the Heart Hospital at Henrico Doctors' Hospital continues to serve the Richmond, Virginia community for over 30 years. Additionally, Healthgrades recognizes Henrico as a Five-Star Recipient for Heart Attack and Heart Failure. Our collaborated team of experts continues to develop the latest techniques and procedures that contribute to the highest quality results.
In addition to cardiac rehabilitation, we offer the following total cardiac care services:
Cardiac catheterization
Electrophysiology
Heart failure programs
Heart and vascular surgery
We treat a wide variety of cardiovascular conditions, including:
Congestive heart failure
Congenital heart disease
Hypertension (high blood pressure)
Stroke
Pediatric heart conditions
Arrhythmia (heart rhythm disorders)
Cholesterol
Pulmonary embolism (PE)
Heart attack and chest pain (angina)
Atrial fibrillation
Our collaborative team of board-certified cardiologists and surgeons continue to lead in their field and are honored yearly for their heart surgeries.
Learn more about the Heart Hospital at Henrico Doctors'